Here are some pictures from when John Lennon joined Elton John on stage at Madison Square Garden in 1974.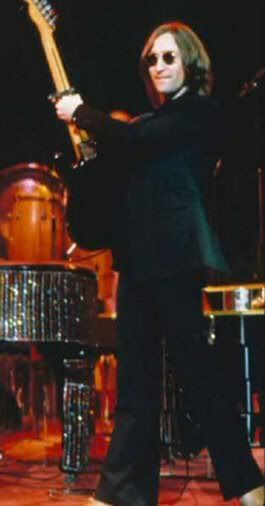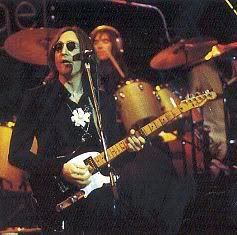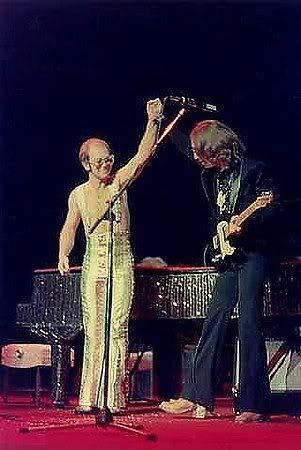 Elton had played piano and organ and sang backing vocals on the "Walls and Bridges" track "Whatever Gets You Through The Night". John didn't have much confidence in the song, saying "It would be nice, but it's not a No. 1." - however, Elton thought otherwise and made John promise that if the single did top the charts he'd appear in concert with him.

"Whatever Gets You Through The Night" became John's first solo No.1 in the US, so he agreed to appear at Elton's Thanksgiving concert on 28 November 1974. As well as "Whatever Gets You Through The Night" they performed two Beatles songs, "Lucy In The Sky With Diamonds" and "I Saw Her Standing There", which John introduced by saying, "We're trying to think of a number to finish off with so I can get off here and be sick. And we thought we'd do a number of an old, estranged fiance of mine called Paul. This is one I never sang - it's an old Beatles number and we just about know it." Elton had wanted him to sing "Imagine" but John refused and said "I don't want to come on like Dean Martin, doing my classic hits."

Elton talked about the concert in his 1976 interview with Playboy magazine:

"I was so knocked out by Lennon - everyone was just standing there in amazement. I was halfway through Don't Let the Sun Go Down on Me - which I always do with my eyes closed - and suddenly there were all these lighted matches in the audience. Usually they do that at the end, when you come back for an encore, but this time it was right in the middle of the song. And I just started to cry...The rush I felt came from the audience - and from Lennon, who really stole the show. It was magic."


More Beatles/John Lennon/Elton John connections:

* Elton recorded a cover version of "Lucy In The Sky With Diamonds" in July 1974. John Lennon provided guitar and backing vocals under the name Dr Winston O'Boogie. Elton also covered "One Day At A Time", a track from Lennon's album "Mind Games".

* Elton was godfather to John Lennon's son, Sean.

* In 1982, Elton had a hit with "Empty Garden (Hey Hey Johnny)", a tribute to John Lennon.

* He also played piano on George Harrison's "Cloud Nine" album and wrote the song "Snookeroo" (with Bernie Taupin) for Ringo Starr's "Goodnight Vienna" album.