Here are some John Lennon/Beatles animated .gif files, icons and avatars that I made myself. You're welcome to take them, put them on your website, use them on forums or do whatever you like with them. (If you take a lot, a link to my blog would be nice!)

Last updated: April 10th 2007

~*~

John Lennon icons:




Other Beatles icons:





Some contact tables for Myspace: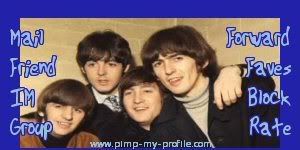 Other Animations

I know these aren't very good but they were my first attempts! More coming soon.